The Warrnambool Camera Club has sent the following information:-
The VAPS Conference (Victorian Association of Photographic Societies) is just around the corner and as part of this we would like to ask that you forward this email to all your members to hopefully ensure that it reaches those that are attending the conference.  It has some very useful information.
FIRSTLY AND A SHAMELESS PLUG FOR OUR OWN CLUB THE RAFFLE!!
This year we are in desperate need to raise as much as we can so we can purchase a new projector and laptop for the club that was stolen recently from our rooms.  Luckily we have been able to find very generous sponsors in offering great prizes for the raffle including a Canon Image PROGRAF PRO-1000 A2 Printer from Total Image plus $1000 worth of paper (offered as two prizes of $500 packs), a brilliant Benq PT2700SW monitor supplied Image Science, a night in Port Fairy at luxury accommodation supplied by Warrnambool Travel and 3 Cheese Hampers from Allansford CheeseWorld.  Please make sure you get a few tickets in the raffle not only to possibly win one of 8 different prizes, but also support our club here.  While you must be in attendance to win the prize there is no reason that you cannot buy a ticket for someone else if they are not attending. 😊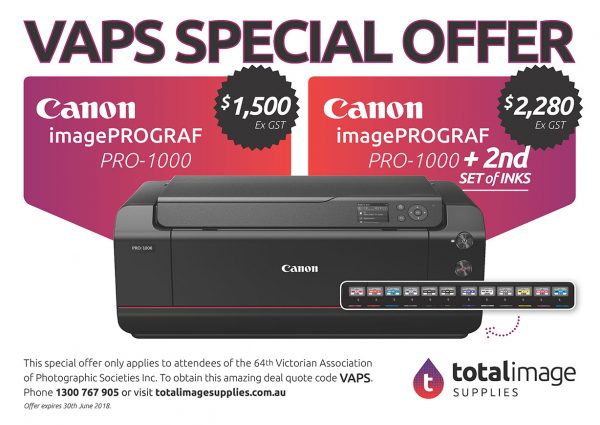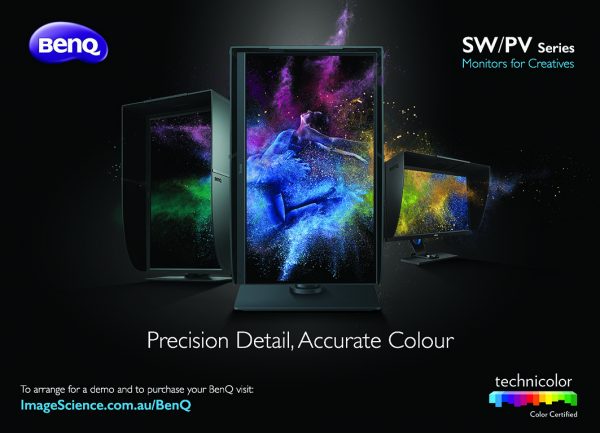 Please consider the various sponsors when making your next buying decision.  Supporting them will only assist other clubs hosting this wonderful event in the future and hopefully make them a more permanent part of the event.
PARKING AT DEAKIN AND OTHER VENUES:
PARKING IS FREE at all venues used during the conference.  This includes Flagstaff Hill on the Monday and the Friday for the cocktail party.
Parking at City Memorial Bowls Club is plentiful as there is parking within the complex as well as along the street.  All of this is free.  Parking is also available at the venue next door being the Warrnambool Football Club and is essentially on the same site.
WORKSHOP PARKING:
While most of the workshop locations do offer ample parking we do ask that you try to Car Pool if you can.
CHILDERS COVE:  Parking is the exception and is very much at a premium at Childers Cove.  We urge you to definitely buddy up with people to ensure we can accommodate the cars.  At best we feel that we can fit 25-30 cars.
WHERE IS PARKING NOT FREE: CBD Friday until 5:00 PM – Saturday Morning until 12:30 PM. See image below.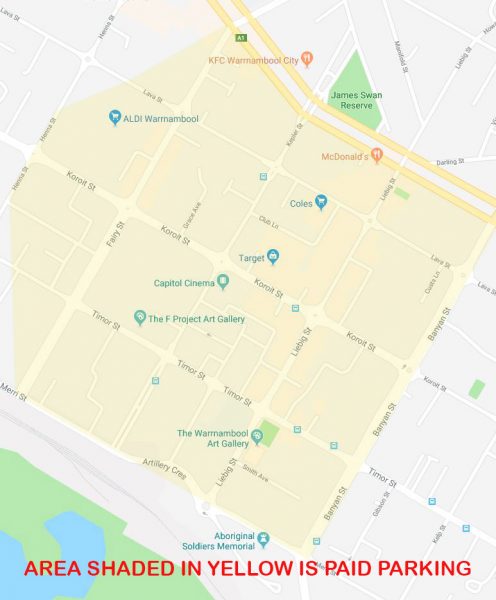 If you or your family are shopping in the central business district (see attached map) please take your time to read the parking signs.  Parking machines are dotted through the CBD and require you to enter your registration details before paying.  These machines are spaced very far apart so BE CAREFUL.  You also have to ensure you pick the right timezone you are in whether it be 1,2, 4 hour or an all-day zone.  This is indicated on the parking meter itself but like most smart devices, it doesn't know its own zone.
MAP OF VENUES:
This year we have produced an A5 booklet for you to use that will be in your information pack.  Attached is an electronic version of this book which some may find more useful.  We will have some larger booklets available that need them.
CLICK HERE TO VIEW PDF FULLY INTERACTIVE VERSION OF THE MAP BOOK:  
The pdf has links spread throughout, including some of the pictures, that will take you either to another page or to an external website.  It even has phone numbers that when pressed will dial the number for you. 😊