As previously discussed two things are planned for this evening.
Firstly, bring along your photographic gadgets for display to other members.
Secondly the club has a DROP BOX site where FIVE images have been placed.
NB – The images will be large and therefore cannot be emailed but must be downloaded. They total 146MB in size.
What we have planned for the ACTIVITY NIGHT is for you do download these images.
Your job is to then process one, two or three of these images and bring a copy along to the Activity Night for discussion.
Firstly we would like you to CROP the image so that it is pleasing to the eye, IE Composition.
Other things to consider when you are processing this image are,:-
RULE OF THIRDS, BALANCE, LEADING LINES, SYMMETRY AND PATTERNS, BACKGROUND (if any) etc etc etc.
CLICK HERE TO GO TO THE CLUBS DROP BOX
Once in the DROPBOX WEB SITE you will see these five images.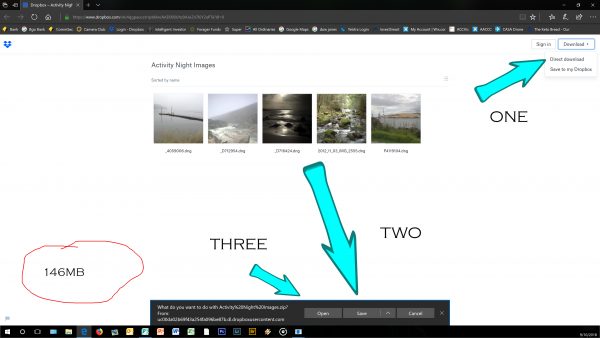 Click on DOWNLOAD then on DIRECT DOWNLOAD
Click on SAVE (Which you can change to Save AS) I changed my SAVE AS POSITION to my DESKTOP which makes the images easier to find
Click on OPEN – you will then see the following

I have chosen to save these files on my desktop. The file will automatically be named "Activity%20Night%20Images.zip"
Finally open any image and process it as requested, then bring them along on the 16th October.
This web site may give you some editing ideas.
It will be interesting to see the different methods of processing we do.
Click on the BLUE TEXT to download a PDF if you wish to Print it.
ALSO – 20th October (Saturday) … our Club has been invited by the Bendigo Rowing Club to attend their scheduled 'Regatta' as official photographer/s.
 A free BBQ lunch will be provided and a $250 donation given to the Club.
 "The BRC is keen to build a gallery of photos which it can use to promote rowing in Bendigo"
 We are now seeking details from the Rowing Club as to the type and quantity of photos they are seeking.
 Full details will be provided to you as soon as it is to hand………………